Handcrafted Western Handbags - Cowboy Boot Purses - Custom Handbags from Your Boots
---
Handcrafted Western Decor and Gift Items Made from Cowboy Boots
---
Specialty Cowboy Boot Purses and Bags
---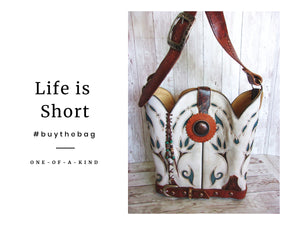 Inspired by the beauty of finely crafted Cowboy Boots
Cowboy Boots and I were love at first sight.
Now they are my muse and the canvases of my wearable art.
I delight in fading the traditional "style boundaries" between Western, Bohemian and Santa Fe to bring you something distinctive, adventurous and stunning.
Express yourself in a beautiful way, unique to you. Because you are Worth. Every. Cent.
~  Chris Thompson  
Artist- Designer-Boot Wrangler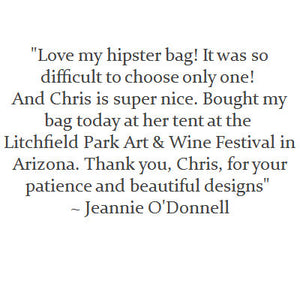 A Little Bragging...
Judith Gable writes... "Oh my gosh, this bag is awesome!!! The leather is soft but super sturdy. The craftsmanship is excellent and the whole look is perfect for me: sophisticated hippie cowgirl :-) I love it!"
Linda Thomas ~ "SO SUPER CUTE!! OMG, I am going to have soooo much fun with this bag. Received so quickly, packaged very well, I just cannot wait to go out and show it off! Thank you!"
Mary Comm ~ "Artistic design and craftsmanship at its finest! Love these bags! Worth. Every. Penny!"
Jenna Stinnett ~ "Love Love Love my custom hipster bag!"
Luann Doke ~ "FIVE STARS! Thank you so much Chris!!! This purse is so beautiful!! I just love it!! You do absolutely beautiful work!"
Laurie Dean ~ "I love love this purse! It's beautiful and well made! Thank you!"
More Testimonials
Accepting Commissions On Custom Bags
It is my honor to make Memorial handbags and Custom purses for you with leather cowboy boots you provide. Please email me with your wishes and I will share my ideas and estimated cost. 
Email me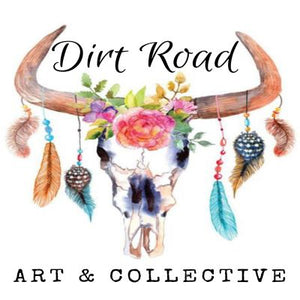 What Chris Thompson bags is up to...
As you may know I have been selling my bags for 10 years and the last 6 on-the-road at Fine Art and Western Shows. I recently opened a brick n mortar in my hometown of Wickenburg AZ where I sell my Cowboy Boot Purses and Reclaimed/Upcrafted Rescue Furniture. If you are ever in the area please stop by and say howdy!
177 E. Wickenburg Way Ste. A
Wickenburg AZ (next to Hassayampa BBQ)
Visit Webpage
Shop Small! Made in the USA ~Made in my Arizona home studio and sold exclusively at Dirt Road Art & Collective in Wickenburg AZ
Handcrafted Western Handbags, Handcrafted Purses, Cowboy Boot Purses, Boot Purse, Western Handbags, Western Cross-Body Purses, Western Conceal Carry Purses, Western Swing Arm Bags, Leather Wine Tote Bags, Leather Whiskey Tote Bags, Hair on Hide Purses, Cowhide Purses, Fringe Purses. Custom Purses made from your boots.
Thank you for stopping by my collection of western handbags and cowboy boot purses.  If you are  shopping for hand-crafted and individually unique cowboy boot purses or cowboy boot laptop totes please feel free to peruse my offerings.  My cowboy boot wine totes and whiskey totes, make excellent gifts for wine lovers and whiskey lovers. Remember beautiful things can come in small packages. Fall in love with hair-on-hide cross-body cowboy boot purses. For something truly unique I have hand-painted these cowboy boot handbags with flap tops just for you. Please check out my newest conceal carry purses and my motorcycle swing arm bags. If we haven't met in person please get to know me and ask a question anytime. Info about my process, custom orders or wholesale inquiries are on my FAQs page.